First Time Visitors:

We hear our Photo Gallery takes a little while to load.

However, your wait will be worth it ... because there's so darn many adorable pictures ... of so darn many adorable dogs!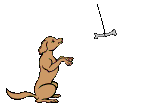 THE FOXY MISS  

 LANA 

Turner

                  The "BIG" Girls    

              RIVER  -&-  SKYE 

"No worries Mum, I'm right here.  

But where's Joey?" 

"I'm right here ... somewhere.  But I'm not coming out until I FIND MY BALL!!"               

~ WELCOME ~ 

-to the North Coast

   -to your new home in Astoria

-and to Pokee's Place

Miss

MAGGIE

 " The Life of every Puppy-Party "

~ the adorable Miss ~

"How 

about if 

I drive 

today?" 

PrettPRETTY GIRL

      Posin' at the Beach 

"Did we just hear something about...

FETCH?"

"Two whole acres to sniff?"

~ "Mister Independence" ~

BEAU 

Brummer

A little story about a Beagle just got posted to the 

Doggie Funnie Pages.  

Rumor has it the dog 

might be Maggie.... 

The sweet & gorgeous  

Miss KANGA

The Goofy & Loveable 

Mister JOEY

-Mr Tennis*Ball Himself, Joey-

A Lost Long Beach Roo checking out the yummy 

"Who me, worn out? 

Toss that stick again, Dad!"

-Kanga

Our favorite place in the whole world  

 ~ OUR BEACH ~ 

We have more than one pair of girls around here 

Meet long-time Pokee Pals 

Posin' pretty at Pokee's Place

"Got Tennis Balls?  

Toss one for me & I'll keep you busy 25 hours a day!"

-River

And I'll play keep away with Pokee amd his toys and keep you busy, too!"

-Skye

Also known as 

OTTO

The Awesome

"This SUMMER CAMP is great stuff, but it can really tucker a guy out, too...." 

"Snout dirt?  What snout dirt?

A little snout dirt is to be expected 

here at Summer Camp...: 

-Otto

These two AWESOME AUSSIES have their very own web page on their mum & dad's very own web site.  You can check it out 
right here
"What do you mean Mom & Dad are here to pick me up already?"

" NAH ... not yet.

Beagle Rejuvination 

in Progress ..." 

"Dear Mom & Dad:  Well, now you know.  This is what happens at the end of these Play Dates at Pokee's Place you keep bringing me to..."

Welcome to 

Page One

of 

THE PHOTO GALLERIES

of some of 

Pokee's Pals

What's a little snout dirt when a 

guy can look LIKE THIS after a 

fun day of play at Summer Camp?  

~ WOOF ~  

This place is too much fun!

Host Dog

POKEE

the Brittany

Because we have more than one Joey 

around here, we call this adorable guy 

 PLOTT HOUND:  Somewhat rare in the West, 

but this breed is the prized state dog of North Carolina  

"This is MY tennis ball ... and yes,

I will take my nap with it now"


Lil' Joey's LEFT EAR FLOP isn't 

by breed or design.  No one knows how it happened, but what you see ... is what you get. 

AND IT'S ... ADORABLE!!

"Okay, Miss Beagle, which way now?  I'll defer to your nose any day...."                                                                                                         

Lana's neighbors 

& the adorable little ones we simply call 

"The Girls"

Meet the original Pokee's Place Pals

So many handsome boy dogs

... so little time ... 

Meet Mama Mattie's Mama, Lori, who rescued her from our local shelter.  Way to go, Mattie's mom & dad!!!  

This gentle big girl is an 8-year-old rescue dog

Notice to Humans in Charge:  

Never place Mattie's bed on a table, even for a minute.

~ PLEASE CONDISER ADOPTING ~ 

Right Here  

of Long Beach 

Enjoying some summer sun at Pokee's Place 

Joey's rather unique idea of 

getting COMFY for nap time.

"Have you lost your head, Joe? 

This couch gets my vote for nap time"

"See, Joey?

Even Pokee agrees ... (wth ME)"

"What the heck is THAT suppose to be? 


"I'll have you know I catch 

my tail ALL the time ... ARF!

This is my friend 

MAGGIE the BEAGLE 

of Astoria 

Hanging out on one of my favorite perches at Pokee's.

(See, I keep those big dogs in line from up here....) 

"You woke me up for what??"

Me with my girl-dog-buddies, 

COCO Chanel and EMMA Peel

My film-star-friend

LANA TURNER 

of Long Beach

This is my buddy

BEAU Brummer of Ilwaco

Introducing

* the cutest * fluffiest * most playful * gorgeous big girl *  

in all of SW Washington 

~ Hello,my name is Emma Mae ~ 

and I'll melt your heart just by looking at you 

Me & my friends taking a break in the summer sun  

"The Diva"

Big sister

COCO CHANEL 

  Honey         Kanga          Joey   Pokee      ME              Frodo

This is DUKE  

Duke is the Honorary Conductor Dog 

on the Astoria Riverfront Trolley every summer with his dad.  Isn't that awesome?

(Uh-oh, do I look a little too smitten here?)

Every girl needs a boy dog "best-friend"

and this guy is mine.

ME & my good buddy, FRODO 

       Pokee                Kanga                    Joey 

... And Now ...

The Heartbreaker Himself

But here's the real deal about 

SNOUT DIRT:  

~ The long time dog buds ~

My favorite couch perch 

at Pokee's

( are everywhere )

* Pretty Girl * Pretty Girl *

~ The Big Girls ~

taking a rest break 

with Miss Maggie

along a trail in Pokee's Forest

This 10-year-old Mini Schnauzer had emergency kidney stone surgery last year.  

(Yes - we show it all here)

Beau was out of the doggie hospital 

in record time

Beau's "barely there" surgery scar

MAGGIE the BEAGLE

of Astoria

( If you knew Maggie, you'd know it is )

Girl-dog-friends following Maggie's nose around

They don't call me 

"The Bearded Lady" 

for nuthin

   Emma           Heidi         Coco              Maggie

Their Christmas photo op at this awesome Long Beach sand sculpture 

We don't claim to know the story.

But whatever it is, it must be good.

WIDMER's NAMESAKE IS 

WIDMER BEER

Black Lab Day at Pokee's Place

Widmer & Frodo 

WIDMER * THE * WATER * DOG

"Of course we're ready to go out & play!"

He bounced back like a puppy and is good as new again

Don't Stop Here! 

Our PHOTO GALLERY II page

has even more adorable pictures

of even more adorable dogs.

Lots of group shots reside there, too. 

Just follow little Beau 

to the next page 

*below*

"This fuzzy blanket wrapped around me for my nap is a figment of your imagination."

( Sure feels nice, tho... )

"Do I get extra treats for being the only one paying attention to you?" 

                     "What, me move?  

      Thanks anyway, I'm just fine up here..."                         

Give these two a good-ole-fashioned stick

and they're happy for hours!

 Lil' JOEY 

and some of 

HIS BUDDIES 

Welcome to 

"SHIH TZU WORLD" 

Meet

*Two More Adorable Little Ones*

LOLA & MAX

And their sweet Mommy

~ LINDA ~

Starring in 

" Labs Love Trucks "

"Who me?  

Get spoiled around here?"

~ Good buddies ~

Mister Brittany & Miss Beagle 

Miss Lola

The "youngster" of this twosome  

Age 6

Mister Max

One of our 

Honored Senior Citizen Dogs

Age 12

Max adopted host-dog Pokee's prized Mallard Duck on the first day of his stay

One of our awesome little 

SENIOR CITIZENS 

from the Girls and their 

Gorgeous Mommy, Gerrie,

in a photo we call   

ME & Handsome Mister      OTTO    Man

( We're pinned !!! )  

Joey was also a local Rescue Dog

WAY TO GO 

JOEY'S MOMMY, JILL-!!!!! 

Poker was just fine with that, tho

probably because he has real ones to chase around out in his pond.

Then again ...

Maybe this one-of-a-kind Beer 

is named after 

this one-of-a-kind Dog... 

 ~ Pokee's Place News ~ 

     Lil Joey & his Mom will soon be moving         to Arizona.  

* Lil JOEY BOY *  

the place won't be the same without you.

 WE'RE GOING TO MISS YOU SO MUCH!! 

"WHOA ~ MR. MAX  

 What are you doing over there all snuggled into the master bedroom covers?  

"What do you think I'm doing, Lola?   

I'm an old (er) guy now ~ and I"m being spoiled.

It's great, by the way, and really comfy here. 

I'll be getting back to my nap now..."  

Pokee ~ a sweet host and watchful 

big-brother-dog to the little ones.  

"Okay, I know it's down here somewhere..........." 

     ( Shhh ~ dont tell my mom & dad, but              I might have my first crush.....) 

My Super Sweet

BOY-dog-FRIEND 

OTTO

     Emma                       Maxie                           Lola               Coco 

Don't look now, it's a 

TINY DOG CONVENTION!

The Brindle Twins

Joey & Porsche

3/4 Bichon -- 1/4 Lhasa

SISTERS 

-one litter & 7 months apart-

and some of their girl-dog-friends

COCO Girl ~ with neighbor  

& little best friend, LANA 

"Two Hot Dogs & a Warm Bun" 

took place on a SCORCHING             HOT July day!!

Showing off

my new

Spring

HAIRCUT

Gracie loved the Snows of 2011

So much so that she went tone deaf 

when we tried to get her back indoors... 

"Who me?  Come in now?  

Don't count on it, this is way too much fun..."  

~ The Inseperable New Girl Dog Friends ~

GRACIE of SEAVIEW

and her new pal 

MISS LILY of CHINOOK

These girls met here at Pokee's Place, both arriving for nice long vacations within a day of one another.  

We have never (as in never-ever-!!) seen two dogs 

become so close, so fast, and enjoy one another more.  

They were inseperable from day one 

and a joy to take care of.   

~ Gracie giving Frodo a little smooch ~ 

while Lily says . . . will you just look at that?!!!

Black Labs * Red Collars

Get these two side-by-side running & chasing and we often had to say .. 

Who's-who out there?  

~ With their new boy-dog friend, Duke ~

... with her new friend 

The Handsome Mister DUKE Man

 ... and crashed hard together, too.  

 The girls played hard together ...

Mama Mattie ~ Gracie ~ Lily 

~ Must be LAB DAY at Pokee's ~ 

       Frodo  *   Mattie   *   Gracie   *   Lily  *   Pokee

 Emma Mae       Frodo              Poker           Gracie 

"Woof ~ I'm a Proud Pokee-Pal!!"

    Mattie and Emma Mae      

              enjoying a day in the snow                    

Beau and his pal, Porsche 

Heidi  ~  Beau  ~  Maggie